In packaged goods categories such as food and beverages, successful smaller brands are gaining significant market share at the expense of larger national brands. Look no further than the success of micro brew beers, or the small but fast growing food brands in natural food retailers such as Whole Foods and Sprouts. While private label used to be considered the biggest threat to national brands, smaller upstart companies have established innovative approaches to marketing products to consumers who are increasingly looking for something more special.
Here are the main reasons smaller grassroots brands connect with consumers: Strong smaller brands:
are part of a community and share values that don't necessarily accommodate everyone in the mainstream;
are natural underdogs to the big corporations and people want to root for them;
are usually more responsive to customer needs and take individual consumer concerns more seriously;
tend to be more innovative since they are less burdened with fixed operating processes and overhead;
often have a quirky personality and approach problems differently.
All of this is perfect foundations for content creation and marketing messages that resonate strongly with customers. People like to share these brands and products with friends and are simply more passionate about them.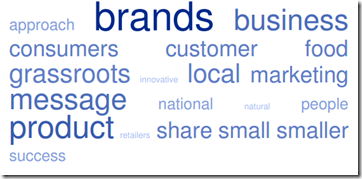 Whether you work on a small business, or even a large, nationally recognized brand, here is how you can grow your business using the "grassroots" approach:
Build a strong story around who you are. Who is the owner, and why was the business created? What Is the mission of the business? What is interesting about the people who work there? What are the values you collectively uphold?
Establish why the company, product or service is different than the competition and stick to this message.
Actively participate in the community of your customers. Sample products and share business ideas, sponsor organizations that connect to your customer and your product message.
Align with partners such as retailers, vendors, notable spokespeople. Speak with anyone and everyone that can potentially help you out.
Create a crystal clear and compelling message and use local media to spread the word. Consider hiring the expertise of a decent agency that can help with positioning and messaging. I have seen many small brands with interesting product promises but horribly confusing packaging and messages that sink their chances of breaking through to consumers.
The small brand that gains fast growth usually has a relatively simple product and marketing program that is executed very well – because they are limited in resources and have no other choice – and set the example for businesses and brands of all sizes in some basic principles of growth and success.