Few tasks in business are fraught with as much undo anxiety and emotion as naming your company. Choosing a name that will live on as the business grows seems of utmost importance – not unlike naming a child. But what starts off as a fun brainstorming activity over a beer devolves into a long list of potential names and a big headache (not only from the beer). Company naming success is truly a combination of left-brain (logic, process, discipline) and right-brain (creative, artistic, and linguistic) thinking. After creating names for small companies and huge brands, I share with you a practical approach to conducting this exercise. Naming is hard work, but is best done by following a simple process.
The Objective of a Company Name – The objective of choosing a name is the same as the objective of any other business activity, to create value. A strong clear name uniquely identifies your firm's line of business while projecting personality, interest and professionalism. Names which are confusing, similar to others in an industry, silly or overly identified with an owner, are poor choices for adding value to a business.
The Structure of a Company Name – Good names will follow a patterned structure, have a formal name, descriptor, and optional slogan. The formal name is unique and will be remembered. The descriptor identifies the industry or category of service. The slogan can help identity the core benefit:
For example – here is a naming architecture for a fictitious outdoor store:
Formal Name: Bridlewood Tackle
Descriptor: Equestrian and Outdoor Supplies
Slogan: Best Selection in Eastern Pennsylvania
Bridlewood Tackle will, over time, come to be known simply as Bridlewood, but the other elements provide identification and credibility.
Practical Approach to Creating Company Name ideas
First, identify important categories for word-brainstorming. These should be based on your business's uniqueness and industry. There are many categories but a good start would be the following:
Location words – town, county, streets, etc. (these are surprisingly effective for company names)
Ownership words – founders name
Aspirational words – vision, what the finished job helps create, beauty, direction, etc
Product or Service words – the product being offered, industry, or service area
Technical terms – suggesting unique development tools, novel approaches, industry tech terms
Benefit words – price, customer service, reliability, honesty, etc.
Now, have fun filling in the grid with at least 5 ideas per box as follows: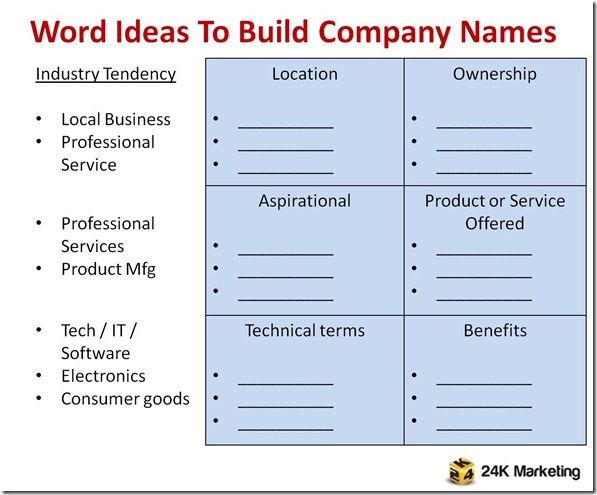 The reference to Industry Tendency is a guide only
Synthesize for Company Name Ideas –Once you have the grid filled in, now us the time to be creative. Creativity here is really synthesis. Take words from the grid and combine and mix words. Look for combinations that have not been used but will be memorable if tied to your brand or company. This is fun but can be hard work. Look for any word fragments, combinations and interesting spellings. It is very important not to be critical at this point. If you can pronounce it, write it down.
Creativity versus Synthesis – Avoid whimsical or confusing names like Nike, Google, etc. While these are unique, small and mid-size companies will need to spend enormous advertising to build a functional and emotional meaning to the name. As an example, Chester County Wealth Management Group may create a stronger business impact than a name like "Impedium"
Check for Availability of Company Name Ideas – this is the not-so-fun part. Start with an on-line search of the name ideas to see which are taken in your industry only. Be prepared to eliminate well over 60 % of words you like due to competitive use in your industry alone. Remember to search various spellings of each word to catch anyone who is using the name. The more common the word, phrase or family name, the more likely it is to be taken. Look for different combinations, different spelling. Check for the availability of a user friendly URL availability for a website. Don't get discouraged at this stage. You will learn a lot about your competition in this search and it will help you unlock new ideas for names. Take breaks and come back to this exercise with fresh eyes.
Evaluation of Company Name Ideas – Results should be rated against the following:
Easy to pronounce and spell
Easy to remember
Convey what product or service you provide
Clear of other firms in your market
You personally like the name (don't hold too much weight to this as you will come to like most names over time)
Once you have selected Please be sure to consult a legal expert for final clearance and registration.
Logo design and development will be the next to bring the idea to life visually.
Have a great time!
ATWMMAKB8ET2